In March I went on a lovely 10-day trip to Europe with my boyfriend (now fiancé!), and it was an experience I'll never forget. We did so much in the time that we were overseas. Leading up to the trip, however, I kind of let my budget slide "in the name of travel," which by that I mean I thought that I had to buy some necessary items in order to have the most fulfilling trip I could have — and I think for most of my orders, that is a true statement. It was also important that I bring things that wouldn't be extra weight or cause any major space issues since we were traveling with only a carry-on and personal bag. Just to clarify, I didn't buy these things all at once, but rather once we started planning the trip over a 6 month period. *Prices listed at the time of purchase*
[Paris] [Florence] [Rome] [Dublin & Galway] [London]
Beauty!
My aim for my beauty and skincare was to bring as many non-liquid items as I could. I was limited in space for my carry-on and personal item so I didn't want to be held up in security for going over my limit in liquids. Even though I purchased four items that were non-liquids, I still ended up using my boyfriend's liquid bag to cover the rest of my skincare/make-up routine.
1. NOONI Snowflake Travel Stick Cleanser – $14.99
I double cleanse my skin, so the first step in my skincare routine is oil-based cleanser to remove dirt, grime, make-up, or any other travel related grossness. This was a perfect solution to carry-on! It melts on the face and removed all my make-up. Seriously, no complaints. This is a perfect travel skincare product. I followed up this with the Neogen cleansing stick (mentioned below), and my skin did not have any negative reactions.
2. Neogen Real Fresh Cleansing Stick Green Tea – $19.44
This was a win for my skin. I had not tried Neogen brand products before this. I'm so glad I was able to use it for the trip because now I want to try more of this brand. The tea tree formula did not dry out my skin and left it feeling clean, which is especially important since I didn't know what my skin would do in these conditions.
3. Ethique Eco-Friendly, Hair Sampler – $16.00
Josh and I shared these hair products for the trip. Even though some Airbnb's provided shampoo and conditioner, we used this sampler exclusively. Three bars are shampoo and two are conditioner. They lasted the entire 10 days (by day 9-10 they were almost gone). I think they are easy to lather and make your hair feel clean. I performed better than we were expecting. It's great for travelling and that is all we needed.
4. Anastasia Beverly Hills Foundation Stick – $25.00
I don't normally buy make-up from Sephora, but I wanted a high quality product because I knew my skin was going to go through some trials from all the travel. This worked great. I had no major breakouts or issues. Combined with concealer and powder, it lasted most of the day.
Portables!
5. Travel Inspira Foldable Duffle Bag – $9.99
This bag was such a solid purchase. It folds down so small! We planned to do laundry in the middle of our trip and we used this bad to carry it to the laundromat, instead of having to use our luggage. It was worth it for that alone! We also bought it in case we went overboard with our souvenir purchases and needed extra space, but in the end we didn't use it for that purpose.
6. P.E.T Luggage Light Weight Spinner Suitcase 20 inch -Carry On – $39.99
I'm including this suitcase on the list, even though this isn't the carry-on that we ended up taking with us. I still kept it because we can definitely use it for future travel. The issue was that we were looking for hardback suitcases with dimensions less than 7.8in wide and less than 20in high. The description says the width of this suitcase is 7in, but we measured it when it arrived and it was actually 8in. This won't pass RyanAir's luggage restrictions and we didn't want to risk having a checked bag, but for U.S. travel or other airlines this will be very useful.
Bonus suitcase: here's the suitcase we actually brought with us that is Norwegian Air and RyanAir approved: Jetstream 20-in Lightweight Luggage Softside Carry-On.
7. Medium Soft Padded Camera Equipment Bag – $9.95
The camera bag that came with our new camera was pretty large in order to fit all the camera equipment in the bundle, but we wanted something smaller that would fit in our backpacks. This was the perfect size. It was easy to carry along on our daily adventures.
8. Fossil Campbell Crossbody – $72.00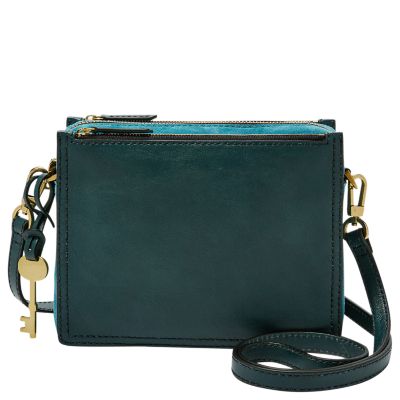 The perfect little bag: holds all travel necessities like a passport, small wallet, phone, and hand sanitizer.
9. TSD Discovery Backpack – $56.99
Love the aesthetic of this bag. This was a great size, too. The one downside was that the flap at the front made getting access to the main pocket kind of difficult, but I think if the front small pocket (on the flap) isn't too heavy, it's worth dealing with.
Clothes!
Sorry, some of these items are out of stock, but I just wanted to say that the prices for the clothes specifically were on a "sale on sale" day at ModCloth, so always look out for those sales!
10. Delighted Invite Oversized Sweater – $15.00
Comfy and cozy! I liked wearing this on the longer flights.
11. Duly Noticed Chenille Sweater – $15.00
Maybe I have an obsession with stripes. I embrace this.
12. Living on a Layer Sweater Dress – $20.00
I bought a large and it was a bit tight on me, but my issue was that it was too thin for the day I was wearing it. If I had worn it with thicker leggings or a different coat I wouldn't have been so cold. It does pack well!
13. Dazzle Do It Dotted Dress – $40.00
I adore this dress!! I wore it to the Kensington Palace Tea Service in London. It's lightweight and super easy to pack. It will fit in any suitcase. This was a gem from my Modcloth haul because I didn't know if it would get wrinkled easily, but it was perfect!
14. Vans Asher Perforated Slip-On Sneaker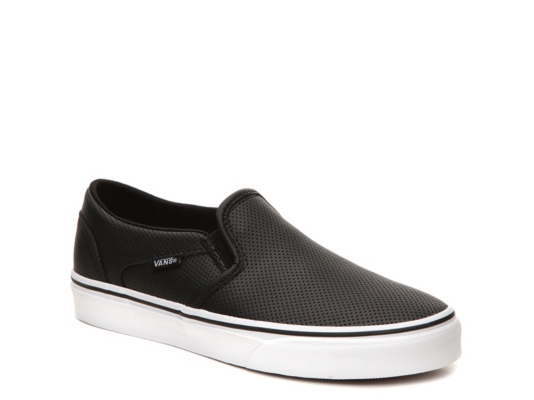 I bought this specifically for the trip because I knew that I liked walking in Vans. I also have worn these A LOT since we've been back because they are just so quick and easy. I barely have to think about them, which is all I ever want in a shoe.
15. Clarks Boot – ~ $60 (Similar style shown)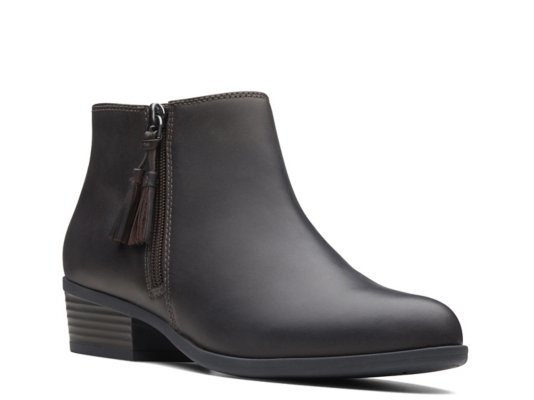 I think the style I bough was only a 1-inch heel, which wasn't really an issue. I did still get blisters on my first day of walking because the shoe was too tight on my toes, but these are such nice quality that if I don't walk in them them for 8+ hours my feet are fine. Love this rich brown color, too!
16. Steve Madden Black Edana d'Orsay Suede Flats – $49.99
Yes, somehow I managed to bring three pairs of shoes on this trip. Should I do a separate post on my entire packing list? I'm not sure, but it's basically a miracle that everything fit in the carry-on. This was definitely an impulse purchase. I wasn't planning on more that two shoes because of weight limits and size of my suitcase. These were only worn once with the polka dot dress, but I think they will get many uses thereafter.
Comfort!
17. Urbanears Plattan 2 Bluetooth On-Ear Headphone – $74.54
Instead of Christmas gifts, we decided to make purchases in the name of travel. I bough a pair of headphones for each of us to use on the trip. The ones I decided on are specifically wireless because that is useful to us riding the NYC subway system, but for the trip, it turned out these were a bit of a hassle to handle and keep in our bags. The headphones don't come with a carrying case so the likelihood of damage was increased.
18. AUX Cable (2-Pack) – $7.99
For the trip, I specifically purchased this AUX cord to go with our wireless headphones so if we didn't want to listen to music from our phones, but instead wanted to listen to the in-flight movie, we could do so.
19. Travel Pillow- $9.99 (similar style shown)
I already have a travel pillow, but I wanted one specifically with the snaps so I could attach it to my backpack or carry-on. It was worth it for the long-haul flights!
Tell me in the comments what you have bought in the name of travel! ♥
---