This post originally appeared on 80 Books Blog!
3 out of 5 stars   ★★★☆☆
Synopsis:
Vice President Joe Biden is fresh out of the Obama White House and feeling adrift when his favorite railroad conductor dies in a suspicious accident, leaving behind an ailing wife and a trail of clues. To unravel the mystery, "Amtrak Joe" re-teams with the only man he's ever fully trusted—the 44th president of the United States. Together they'll plumb the darkest corners of Delaware, traveling from cheap motels to biker bars and beyond, as they uncover the sinister forces advancing America's opioid epidemic.

Part noir thriller and part bromance novel, Hope Never Dies is essentially the first published work of Obama/Biden fanfiction—and a cathartic read for anyone distressed by the current state of affairs.
---
*Received a copy of this book from the Publisher via NetGalley in exchange for an honest review.*
Hope Never Dies by Andrew Shaffer is a satire on the detective novel. The tropes from the tough guy protagonist follow Joe Biden like a heavy smoke of a cigarette (see what I did there). He's impenetrable, barely speaks to women (Jill should have had more dialogue, just saying), and doesn't communicate his feelings to others. He doesn't care for police authority and feels he has to take on the mystery of his dead friend on his own. He feels his age, but doesn't let it get in the way of his impulsive nature. However, this is the "full fledged" Joe Biden, so he does have a more well rounded character profile, he eats ice cream any chance he can, he cares about others from his time in politics, knows his glory days are in the past, but genuinely misses his friendship with Barack Obama.
The novel takes place after the January 2017 inauguration, and Joe is feeling defeated that he no longer spends time with his friend Barack, who instead is on vacations with various celebrities. When a local friend dies in Wilmington, Delaware, a single clue links the case to Joe and he won't stop until the truth is realized. Barack is the one who alerts him that something is wrong and has the secret service in on the investigation. They team up and search for clues when it becomes apparent that the police won't look into the case to their full potential. As detectives, they are old and clumsy, easily recognized, and can barely string along a cohesive theory. However, the writing and the plotting work. I was charmed reading the book. There is just enough "Biden"-ness and "Obama"-ness peppered throughout that you can read these characters as someone you know from TV in this bizarre situation. That's why I was so excited to read the book in the first place. The humor, the joke of it all did not disappoint.
Honestly, detective novels are not books I gravitate toward so I was frustrated reading through the investigative parts of the book, but that's not the reason I was reading. The satire and the fact that the main characters are two of the most popular politicians in the world made this book worth the read. These are exaggerated versions of the people we think we know.
The ending wrapped up nicely, I like that we weren't given the answers easily and the plot took a lot of turns that I was not expecting (maybe this was because of my lack of knowledge regarding detective novel tropes), but I found the end satisfying. Plus, there was some interpersonal drama between our two protagonists that was resolved very sweetly so the book ends on a strong note. More Joe and Barack novels, please!
Of course, I recommend this with full confidence because it's just such a silly concept for a novel, worthy of adding to your summer reading. The rating I gave is more based on the fact that I struggled through the "detective novel" aspects. Quirk Books always publish fun books and I'm glad I was able to read this book. Comment below if satirical books are your jam, like me!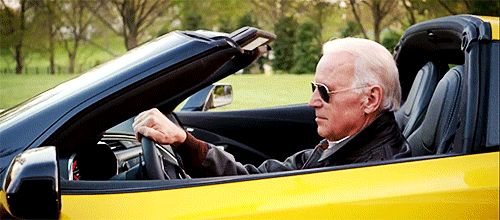 ---